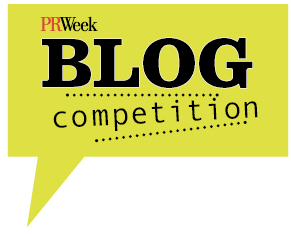 PR Week's 10th anniversary competition has really got my attention, not necessarily for holding a competition  (there are competitions aplenty of which my buddy Steve deservedly won!), but for the manner and tools they have used to do it.
The competition allows US readers to vote to produce the nation's favourite PR blogs leading to one ultimate winner. This is supposed to be for the US, but the esteemed Neville Hobson has managed to creep in to the list too – and quite rightly so 😉 – good on you Neville!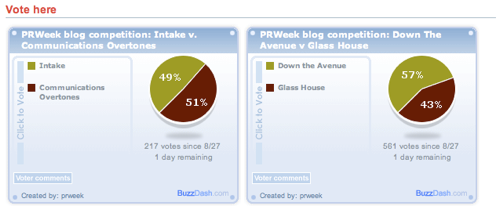 I like these kinds of competitions – but they are normally carried out by the publications themselves and this is where I have got to give PR Week enormous credit here.
As a beacon to the PR industry, using the latest social media tools in this way, it does much to dispell the myth that the PR industry is "past it","too late" or crap but there is something so appealing about the way they have used one of the latest bunch of UGC tools to generate buzz.
So surveys in blogs or websites is nothing new, but let me shed some light onto BuzzDash which will hopefully demonstrate why using these kinds of surveys are such a good idea.
Take my little experiment below (no, please do…it is embeddable, see the small blue button at the bottom "share this buzzbite")
Widgetised Survey Distribution – Not only do we have a UGC survey that I can put anywhere, but so can the users/readers too.
Community – Note the other small box "voter comments". Cool, not only can people cast their vote and see its' impact in real time, but they can also add something of value to the survey buy leaving a comment.
Suddenly, we have moved away from a simple static survey seemingly there for the benefit of the publisher to something which users can distribute and participate in.
Don't forget that the surveys can also be voted for on the BuzzDash site, and you have the opportunity for the survey to be seen by many more people than a conventional static one.
Website stickiness…it hasn't gone away yet, even in the fast-moving Web 2.0 world!
Oh, BTW, my bet is that Brian will win it
Read More