TweetStats – an interesting Twitter perspective
Despite Plurk enjoying more of my attention recently, after a fair bit of conference Twittering at the great Fuel-Conference (organised by Carsonified – much more to come shortly!) I thought I'd get a better idea of how and when my Twittering has taken place.
This follows my recent Twitter content overview from TweetCloud – and has given me a really useful view on how important Twitter is to me – and as such, why, despite all the downtime Twitter remains so crucial a communication tool for us all. TweetStats shows me this.
Looks Like Wednesdays are my busy days! Midweek boredom? Chances are something is kicking off or hitting the mainstream after a Monday launch/release.

I am pretty consistently active throughout the day (damn Twitter makes to so easy!) but this is essential to engage with the ongoing conversations. Is it me, or is this sounding increasingly defensive 😉 ? The evening peak will no doubt be when my West Coast friends are onboard and active too!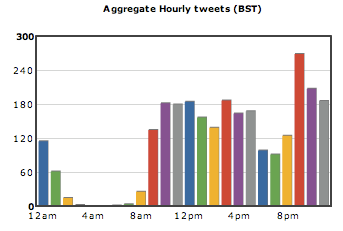 I much prefer using the web interface to Twhirl, but am growing increasingly fond of Twhirl – especially when it becomes Seesmic-compatible. I also use mobile a lot, but I am guessing this may come under the web interface as Opera Mini allows me to view in standard version.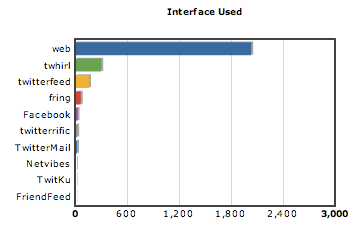 Which kind of contradicts what Rescuetime suggests I spend my time on, a pretty similar split between Twitter.com and Twhirl (3% for Twitter.co vs 2% for Twhirl):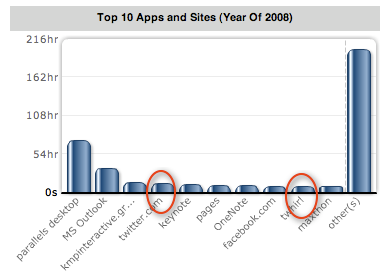 Another point of note is just how much content gets fed in through Twitterfeed. Twitter is an important source of my blog traffic, showing just how important it is to get my content into Twitter.
There's a few other useful stats (such as most frequent replies and another version of the aggregated hourly feed, but I won't overkill the stats!)
All in all, it is a pretty useful range of stats to understand the way I engage with Twitter.
From a marketers point if view, these stats taken from an influencer's twitter ID would give me almost email-marketing style optimum opening times and day informations, for product/news launches which, coinciding with summize, would give me some interesting feedback into my product/service launch.
More later on Summize – especially its recent Sentiment measurement tool.