Facebook Chat goes live – screenshots
So Facebook chat launches nationwide today! Yay! There was only one other person I thought would be on this straight away…and she was!
and here…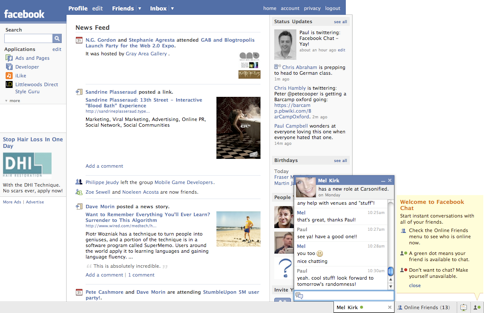 For some time, Facebook has been hampered by what I call serial conversations (in fact, I think I may have got into an argument about it here!)…one message gets posted, another replies…another message gets posted…you leave…then pop back the next day where another message gets posted…you get the picture. Splintered and useless fragments of chat.
In Groups and Pages, this problem is amplified. Pages and Groups are designed to create community and a place where "yung fings" can hang out and chat about a topic, but this conversation is stifled because there is no real-time interaction.
Fortunately, Facebook Chat allows us to talk in real time to other people…all we need now is to integrate these into groups and we are one step closer to never needing another social network again.
Whilst FB Chat is not yet integrated into Groups or Pages, the fact that a conversation sits on top of the browser so to speak (i.e. you can navigate around Facebook without interruption to the conversation), it means that you can still be a participant in a conversation with people WITHIN the group or page.
As such, brands who have pages and groups with active admins in them, can actually engage in realtime with visitors.
Now, imagine if you had a music band and a Facebook Page…and your lead singer was doing a live chat….from the very same Facebook Page they just launched their new single from…
Smilies are currently keyboard-shortcuts only but look good all the same…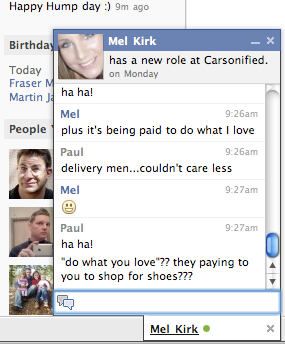 …whilst the pop-out means you can still chat with Facebook friends, whilst not being in Facebook.
All-in-all…one more reason why we will never soon be able to leave Facebook…EVER!
Thanks Mel for being my Guinea Pig!