March, 2008 Monthly archive

I am loving FriendFeed at the moment. With the amount of social capital I have dished around the net, I love being able to see in just ONE place what all the people I "know" are doing.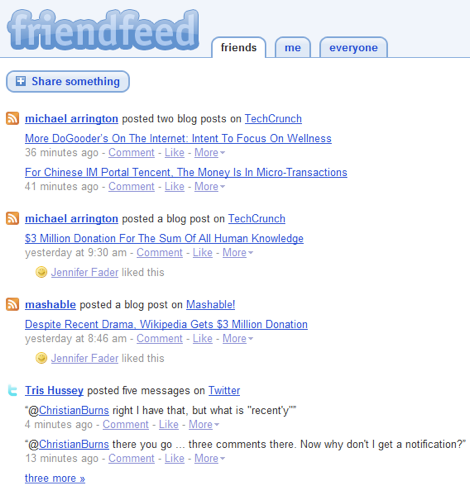 I also love the way it recommends stranger's feeds based on their popularity to people I "know" too.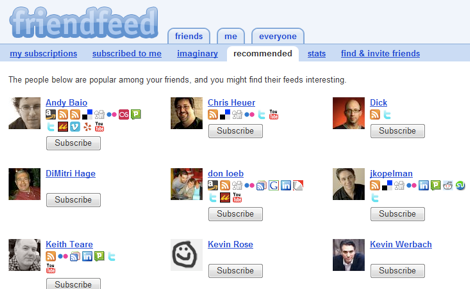 At the same time though, this is stopping me from throwing myself headlong into Friendfeed.
It is hard enough keeping track of what the people I DO know are up to on their various social networks, so to now be in a position to follow the activities of people THEY know is just tipping the scales.
I like…no LOVE the idea of somewhere to keep track of everything my friends are doing, but to introduce me to friends of friends as well kind of defeats the point.
Does anyone else agree?
Read More

Schweppes Burst from ipub on Vimeo.
Schweppervesence eh? Is there a better example of visualising a feeling than the above?
[UPDATE] If the vid is taking a while to load (as it is at the moment!) just click on the Schweppes Burst link above to go directly to Vimeo
Read More
Steve picks out a great piece of work from Microsoft Live Search (MS are on a roll at the moment what with 5Gb SkyDrive and Surface!) which I feel compelled to share. Not because it is Steve or Microsoft, but because I think it looks at promoting search (and browser plugins which is something close to our heart at the moment!) in an entirely new way – and how timely.
(the introduction to the game)
Big Snap Search encourages you to install the Windows Live Search as your default browser search engine:

(adding Live Search to the browser toolbar enhances your chance of winning)
Quite simply, you stand a better chance of winning (i.e. matching a pair of cards) if you install Windows Live Search in your browser.
As we saw a couple of weeks ago, Firefox 3 will be focused on search – so if you aren't part of a browser already, you stand little chance of being used. We already have dozens of search plugins for FF, Flock can detect a search engine on any page and asks you to add it, so how can MS claw back some of the lost ground if it can't match Google on quality of search results? Be on more machines.
I can't help thinking that I am being manipulated here, but have to give Microsoft 10 out of 10 for innovation. From all accounts, their ad team are developing some truly exciting ideas.
Read More
This cropped up on my radar again and takes me back a few months to when I was looking for a job. (for Hugh's involvement and subsequent enquiries I received, I shall always be incredibly grateful).
I now work for digital agency, KMP and we like to think we know what we are doing and are pretty damn good at doing that!
We do this by keeping track of the latest events/trends/whims and identifying opportunities for clients within this – which is exactly what I do, but just can't put on my CV.
As a fairly active blogger, early-ish Facebook user, very early (but originally cynical) Twitter adopter and general web app addict, my blog became a way to demonstrate knowledge that didn't fit the conventional rules.
It also showed that despite a career plotting a course of direct mail print and mail order marketing, I did actually have a significant understanding of this web 2.0 "thang".
Now, this isn't an ad for KMP, but gives you some indication of why I was selected from the 60-odd people who ended up applying for my position – and it totally ties in with Seth's original post and the cartoon on Steve's blog.
I joined the Facebook group set-up by KMP, met and chatted with the CEO and MD and used social media to break down the traditional barriers between candidate and employer. They in turn were able to see much more of me than I could have ever shown them in my CV and more about me than if we had done it the conventional way.
All the fluff aside, they also saved themselves several grand in agency fees!
So, my advice from someone who HAS been there and done it, if you have a blog put it on your CV – allow a potential employer to see the person behind the boring, conventional text on your cv.
Scared to do that? So was I, but any employer who isn't interested in a free-thinking, free-writing human being isn't worth their salt anyway – and if they think they can get without at the very least, thinking about blogs or blogging then they have no future anyway.
Read More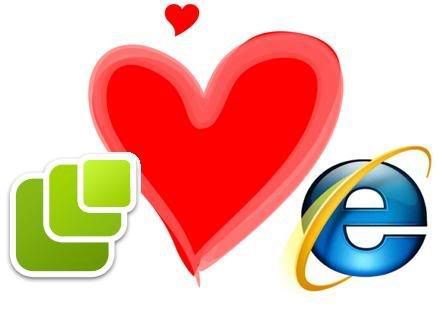 Since listening (intently I might add!) to Ian Jindall a few weeks ago discussing Microformats as one of the important growth areas of the web in the next 18 months, I have really been digging to truly understand their importance and potential benefits.
This post is absolutely NOT about explaining microfomats and the semantic web to you (I'd rather leave that to far wiser people than me!) but I feel with the launch of IE8 Beta, it is something that people now need to consider now much more than ever before.
The Background
IE7 has two modes for showing web page: Standard and Quirks.
Quirks mode allows the browser to still show an old or particularly badly-built page. Standards mode is supposed to show pages that the browser detects were built on accepted web standards.
The issue however, is that the standards by which IE7 was measuring how "Standard" a web page was were not the accepted ones – they were THEIR OWN.
As such, people were designing websites for IE7 NOT the accepted industry standards. Opera kicked off a legal case to bring Microsoft to task on the issue (basically, how can developers build websites to standards when the biggest browser on the market is not standards compliant?)
The Future
With IE8 now becoming properly standards compliant, this should mean that websites will be websites, will be websites, the world over.
With this basic framework "agreed", developers can shift their focus onto adding semantic value to the site structure and include microformats at the heart of their build. The agreement on standards itself isn't enough to create this "new hope", but Yahoo's recent announcement should provide a significant incentive for developers to begin to build this into their site builds.
So…if my crystal ball isn't too damaged (!), I would guess that within a year of IE8 launching proper (who knows when but let's say Q1 2009 ?!) that the semantic structuring of content will be well and truly an integral part of ANY site build.
Read More

Our great leader brought it to my attention today that we are sponsoring the Best PR Agency award at the up-coming How-Do awards on the 24th April.
Now, as much as it pains me to think I might once again be attending an event at Old Trafford 😉 I am genuinely excited about the event and where this positions us.
Typically, the worlds of PR and Web 2.0 have clashed, the main argument being that word of mouth through consumer blogs and social networks is fast becoming the only trusted message other consumers will believe.
As an advocate of blogs and blogging (yours truly is presenting a seminar on Blogging for Business in April) I couldn't agree more. The control of your message has been taken away by the power to publish in blogs and social networks.
Conversations about you and your business are taking place everywhere online and if you haven't got a plan on how to join in this conversation then you are losing control of your brand.
So what to do?
A corporate blog is one step – provide a place for the conversations to take place on your doorstep.
Stakeholder analysis is another – find out who the key stakeholders are and approach them.
Joining a social network might be another – be part of the community you serve.
But with conversations moving away from the source of the message, where does the traditional press release fit into all this? If social networks and blogs are where it's at (and where it's at now includes video and audio), how do we get the message out to these people:
In a location they are likely to be receptive.
In a way in which the want to consume the media.
Answer: Social Media Press Release.
Again…What?
Answer: The Press Release as we have come to know and despise/love, optimised with tools to allow the content to distributed to social networks/blogs and which grows with the frequency of references to it.
We have been thinking about this concept for some time and have spent a long time evaluating the most appropriate methods of distribution and content types to include in the release.
Watch this space closely as we move closer to launching this exciting innovation to the PR world!
Read More