BBC recommends delicious, digg, reddit, StumbledUpon…and Facebook
If ever there was a sign that social networks are here to stay, it is with the below: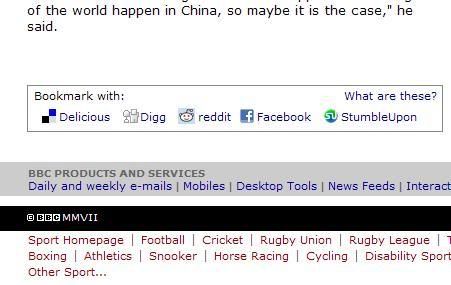 The BBC are now allowing people to tag their content into all of the above bookmark sites, but importantly, Facbook is there too.
The BBC are great advocates of Facebook – their network has just under 9,000 members (!) but what I feel is significant is that they consider Facebook to be of such importance that they want us, the end user to join in too. By September, analysts expect Facebook to me bigger than MySpace but how much bogger can it become now it has the support of the BBC?
The cynic in me wonders what is in it for them!
Tags: facebook, bbc, social networks, myspace