If you aren't thinking about facebook – think about another job
E-consultancy reports on a Quantcast report which shows that some facebook widget-developers are seeing three-fold increases in traffic to their websites.
THREE TIMES THE TRAFFIC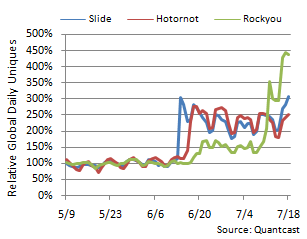 In the this period Slide has seen its global reach triple, while daily global unique visitors have grown from 753,000 to more than 2.3m, an increase of 207%.

HotorNot has doubled its global reach, boosting daily traffic by 152%, from 289,000 to more than 722,000.
RockYou has also tripled its reach, and daily visitor numbers have risen by 339%, from 286,000 to more than 1.3m.
The FT reports that Bay Partners is looking to make up to 50 investments of between $25,000 to $250,000 (£12,000 to £120,000) to help developers build Facebook applications.
The online payments service Paypal is asking for developers to create a Facebook application that uses PayPal, with a $10,000 prize for the winner.
HotorNot, Slide and RockYou are all enjoying the facebook effect (March '07 saw 18 million users. July 07 saw numbers increase to 35 million!).
Just because you may not be a developer, don't think you can't compete. Coming up with the idea is what makes this work. People who get "it" are essential.
Maybe you are an online clothing retailer. Think outside the box. Think like your customers, what do they enjoy? What do they like talking about? Who do they speak to? What is on their profiles? What other applications do they use? What are their aspirations? Think how you can meet all or most of these needs and help them communicate your product or service in ways they already communicate and you're halfway there.
Tags: facebook, widgets, growth, online, littlewoods, shop direct