Wiki's beware, the paid-for directories are after you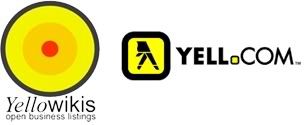 A word of warning to all those wiki owners who are doing for free what other copmanies charge for…you are being hunted down!
Yellowiki, is a twist on the craig's list theme where people create their own directories and business links. Yell.com, the directory people who charge companies for doing the same things are now suing [tag]yellowiki[/tag], claiming infringement of copyright.
But, all is not what it seems. The main basis for the claim is the use of the yellow logo, and NOT the content that it is creating.
So here is my question. Why aren't they just asking the "owners" of the wiki to change the logo instead of trying to close the site down?
Is this turning into another David & Goliath "negative publicity for the big brand, driving people away from the big brand" story or what?!