Coca-Cola – we're listening…if you can find the contact us links!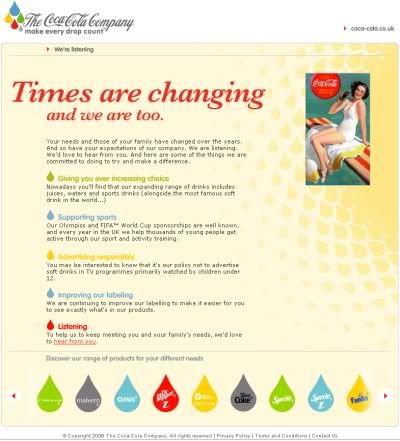 The Coca-Cola Company – make every drop count is a new age site to convince consumers (in the UK at least) that coca-Cola care. The care about our health, our opinions, what goes into their drink, when they advertise and even how many portions of fruit and vegetable we are getting a day – they are listening to us.
They want out opinions.
Except they only seem to want the opinions of those people who care to spend the time to find the "Contact Us" link.
This is the mother of missed opportunities. In creating a 1940's style appearance, they are conjouring up images of the days when Coca-Cola was but a good idea in an age of innocence – creating a sympathetic tone to which many modern day people would respond…but where is the forum, where is the comments page, where is the blog, where is the content?
Coca-Cola, you are listening with your mouths, not your ears.