Yahoo! Search
Yahoo! Search is the latest new beta offering from Yahoo, offering searches for a varietyiof different media – like Google video but for audio (although there is clearly a Video tab too!).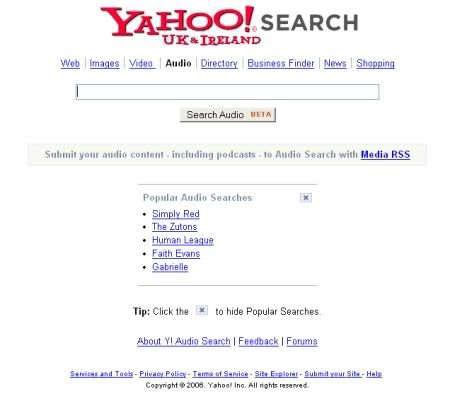 Interestingly, you can add your own podcasts via rss by simply providing the link to your 'cast.I like the idea that there is a specific source for audio and video (like Google video) but I am afraid that many people will become further distanced from RSS by the increased fragmentation of RSS sources.
One search for Audio, another for Video, another for blogs…another for "normal" searches…is it all getting too fragmented? Maybe we need to consider at what stage the volume users are at before we start to divide up the RSS world.
And another thing, why are Simply Red at the top of the most popular searches????